The U.S. Securities and Exchange Commission (SEC) announced in a statement that it will decide whether to approve or disapprove the first Bitcoin ETFs for general investors, less than two months after rejecting an earlier application from Tyler and Cameron Winklevoss.
Though many believe that these new developments would boost crypto prices by bringing more money into the market, experts warn against getting too excited as they may also introduce "a lot of volatility."
The SEC is known for its slow-moving process but experts say things are moving at a faster pace now due to pressure on existing exchanges with high volumes such as Coinbase and Gemini which have been hit by recent price declines.
The "grayscale bitcoin etf" is a new proposal that would allow the SEC to approve Bitcoin ETFs. The 77% of US investors are "more likely" to tap into crypto if this happens.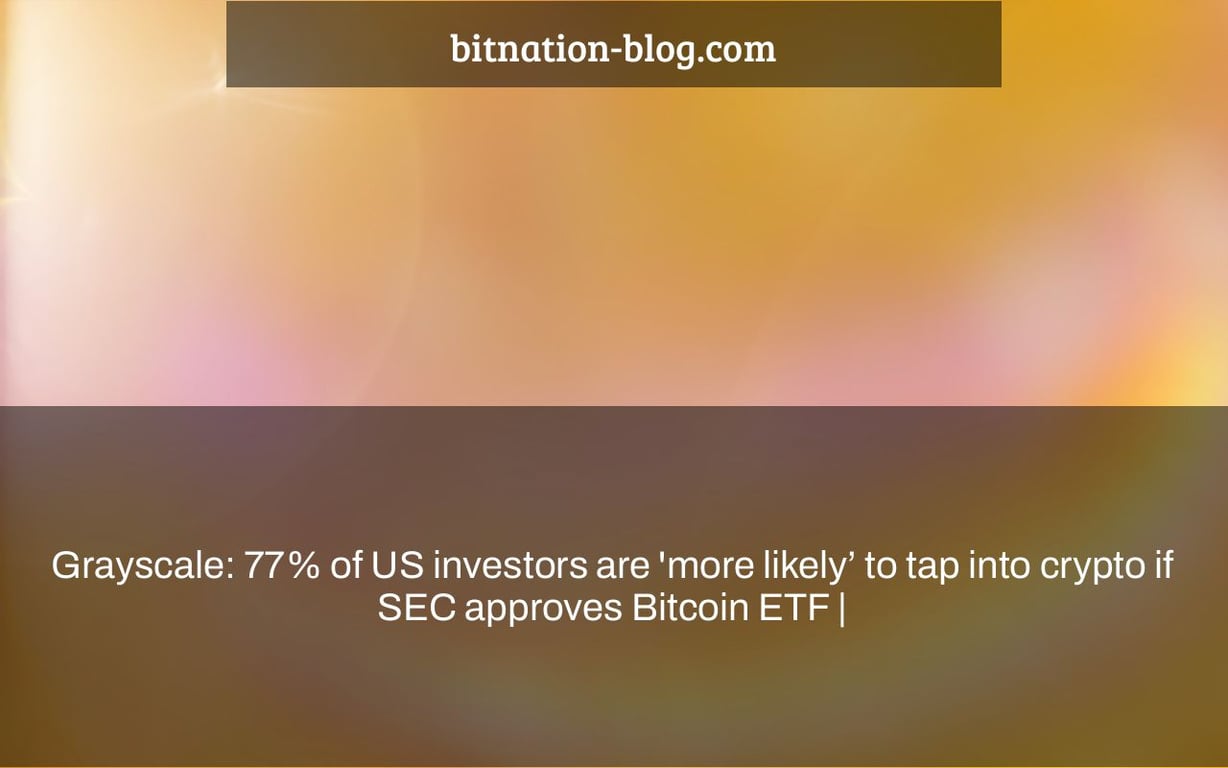 According to Grayscale Investments, more than a quarter of American retail investors currently hold Bitcoin (BTC) in their portfolios. If the Securities and Exchange Commission (SEC) authorizes a spot-based Bitcoin exchange-traded fund (ETF), that figure would certainly rise significantly.
According to the crypto investing giant's third annual Bitcoin Investor Study, 26 percent of 1,000 polled U.S. customers with at least $10,000 in home investable assets and at least $50,000 in household income had previously invested in BTC.
Is it possible that 2021 could be seen as a watershed year for #crypto acceptance and adoption? In our yearly poll of investor opinions regarding #Bitcoin, see how much has changed: https://t.co/lIHAUjQuHy pic.twitter.com/GwmZcj7LCS https://t.co/lIHAUjQuHy
December 6, 2021 — Grayscale (@Grayscale)
The analysis revealed that the great majority of respondents who had previously invested in Bitcoin—87 percent—also held at least one other digital currency.
"Demand for Bitcoin has skyrocketed: more than half (55%) of existing Bitcoin investors started investing in the previous 12 months. Investors are willing to purchase, as seen by Bitcoin's latest all-time high in November 2021, which puts it closer to $100,000 than zero. The majority of these investors are "hodling," according to Grayscale's analysis.
The fact that around 66 percent of Bitcoin investors who acquired BTC more than a year ago were still holding their currencies supported the latter conclusion. Meanwhile, 91 percent of individuals who eventually sold part or all of their BTC did so profitably.
"The findings of the 2021 Bitcoin Investor Study suggest that more investors see long-term potential in adding Bitcoin and digital currencies to their investment portfolios," said Michael Sonnenshein, CEO of Grayscale Investments.
Bitcoin ETFs Throes
Meanwhile, more than three-quarters of Grayscale's poll respondents stated they "would be more inclined" to invest in Bitcoin if it could be done via an exchange-traded fund.
According to the survey, "more than three-quarters (77%) of US investors stated they would be more inclined to invest in Bitcoin if an ETF existed."
ETFs, or exchange-traded funds, are securities that are linked to a single asset or a group of assets. ETF shares, as the name implies, may be exchanged on standard markets independent of the underlying assets.
In this sense, crypto-centric ETFs may be able to assist institutional investors in gaining exposure to digital assets without having to acquire or hold them directly, which is typically hard for large institutions owing to legal constraints.
12/06/21 UPDATE: Our Investment Products' Net Assets Under Management, Holdings per Share, and Market Price per Share have all been updated.
$45.9 billion in total assets under management $BTC $MANA $BAT $BCH $LINK ETC $ETH $ZEN $FIL $LTC $LPT $XLM $ZEC $LTC $LPT $XLM $ZEC $LTC $LPT $ $UNI $AAVE $COMP $CRV $MKR $YFI $SUSHI $SNX $UMA pic.twitter.com/XfLgG1R2Cj $BNT $ADA $SOL
December 6, 2021 — Grayscale (@Grayscale)
Several firms have applied for Bitcoin ETFs over the last three years, but they have all been denied by the SEC. ProShares' Bitcoin futures ETF and VanEck's Bitcoin Strategy ETF are the closest the crypto industry has gotten to a Bitcoin ETF so far.
Both of these funds, however, are linked to BTC futures contracts rather than real Bitcoin, which is not ideal for regular investors.
"While the Bitcoin community at large (outside the scope of those polled) favours approval of a spot-based Bitcoin ETF backed by real Bitcoin rather than futures, the futures-based Bitcoin ETF is a decent step on the way to wider-scale acceptance," the researchers found.
Newsletter
The most relevant daily news in the worlds of crypto, DeFi, NFTs, and more are summarized here.
Gain a competitive advantage in the cryptoasset market.
As a premium Edge member, you'll get additional crypto insights and context in every story.
Analyses of the whole chain
Snapshots of prices
a little more context
For just $19 a month, you can become a member right now. Examine all of the advantages.
Watch This Video-
The "proshares bitcoin etf" is an investment fund that would allow US investors to invest in Bitcoin. The SEC has yet to approve the ETF, but if they do, this may be one of the first steps towards mass adoption of cryptocurrency.
Related Tags
proshares crypto etf
bitcoin etf (asx)
fidelity bitcoin etf
bitcoin etf approval
invesco galaxy blockchain economy etf